Click on image below to read the entire May issue of Farm Notes.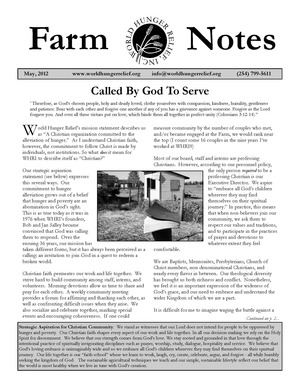 Dear Friend of the Farm,
WHRI has added three new staff members to the team in recent weeks.   Randy Fish now serves as our Farm Operations Director, Kristi Pierera is our new Education Director, and Rebecca Mann serves as our interim Office Manager.
This month's newsletter focuses on the Christian calling that drives our mission
and those who serve within it.  It also features interns Elizabeth Ross and Amber Jekot, who are just finishing a year of service and learning at WHRI.
We are grateful for, and humbled by, the gifts, creativity, and commitment of the individuals God continues to send to us.
Blessings,
Neil Rowe Miller
Executive Director
Related Posts: