Valle Nuevo is a rural farming community in mountainous north-central El Salvador. The community is part of a larger municipality known as Santa Marta, in the District of Sensuntepeque. The entire population was displaced throughout most of the 1980's due to violence of the war between the FMLN and the government of El Salvador. In the late 1980's the population returned in several groups, one of which now distinguishes itself as Valle Nuevo.
The Valle Nuevo community has collaborated with Shalom Mission Communities (SMC) since 1992, when David Jansen participated in an international team observing the disarmament process. With their encouragement, WHRI began working with the community in 2009.
At the request of the Valle Nuevo Directiva, we have focused on income-generating activities that will help support and attract their youth, many of whom have or will be completing university degrees.  Initially, this has involved vegetable production and marketing, and over time we hope to help the community produce and process other high-value crops.  A Salvadoran NGO, the Asociación Desarollo Económica y Sociál (ADES) has partnered with us in these and other efforts.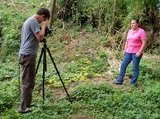 We have been honored to welcome national award-winning documentary photographer, Mark Menjivar, as a partner in this effort as well.  On February 18, 2011, Carlos Colón conducted his requiem, Lamentations of  Rufina Amaya, and Mark Menjivar premiered his photographic documentary Retorno, in an event that benefitted World Hunger Relief, Inc. and the community of Valle Nuevo in their work of restoration.  Mark's photo documentary is available to churches and other groups who wish to hold educational or fundraising events.  Proceeds will support development efforts in Valle Nuevo.
Our International Program Director, Patrick Lillard, makes regular trips to El Salvador.  Click the link to read his Trip Reports.